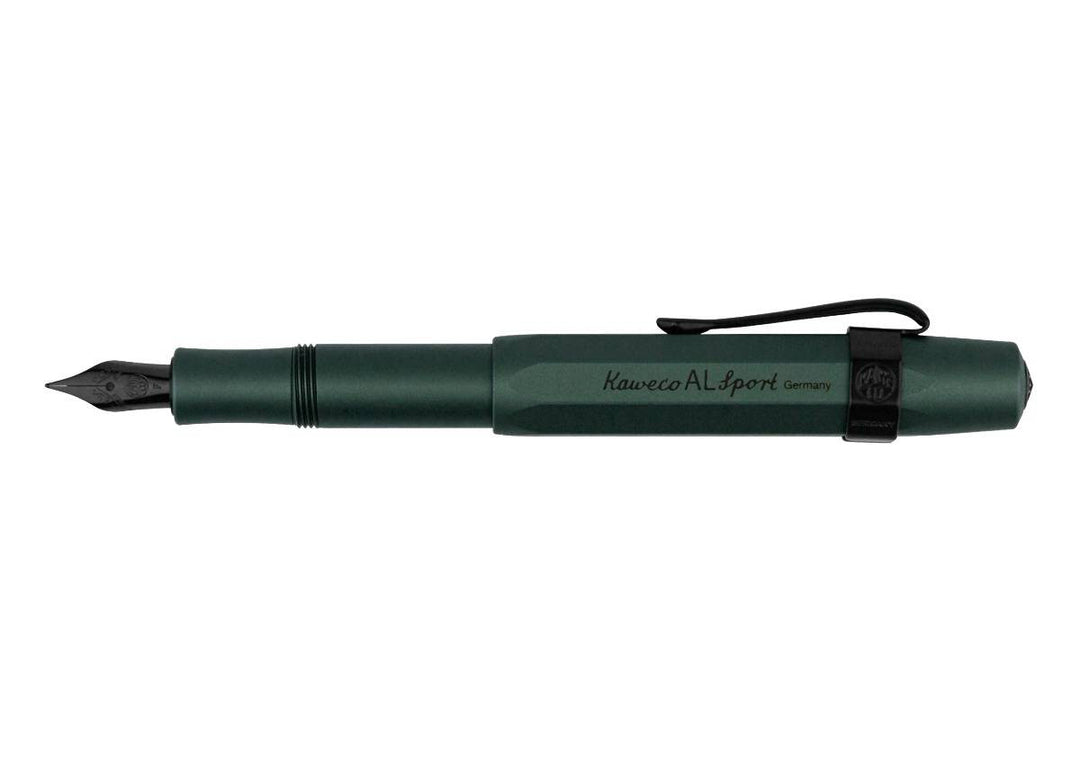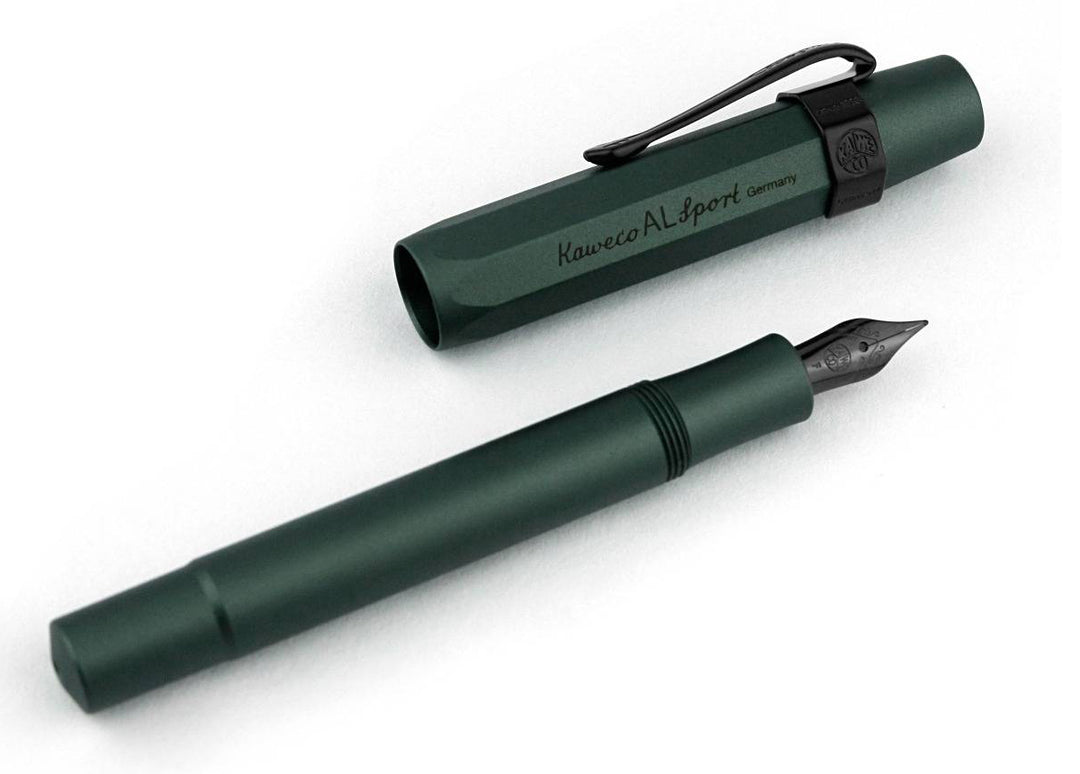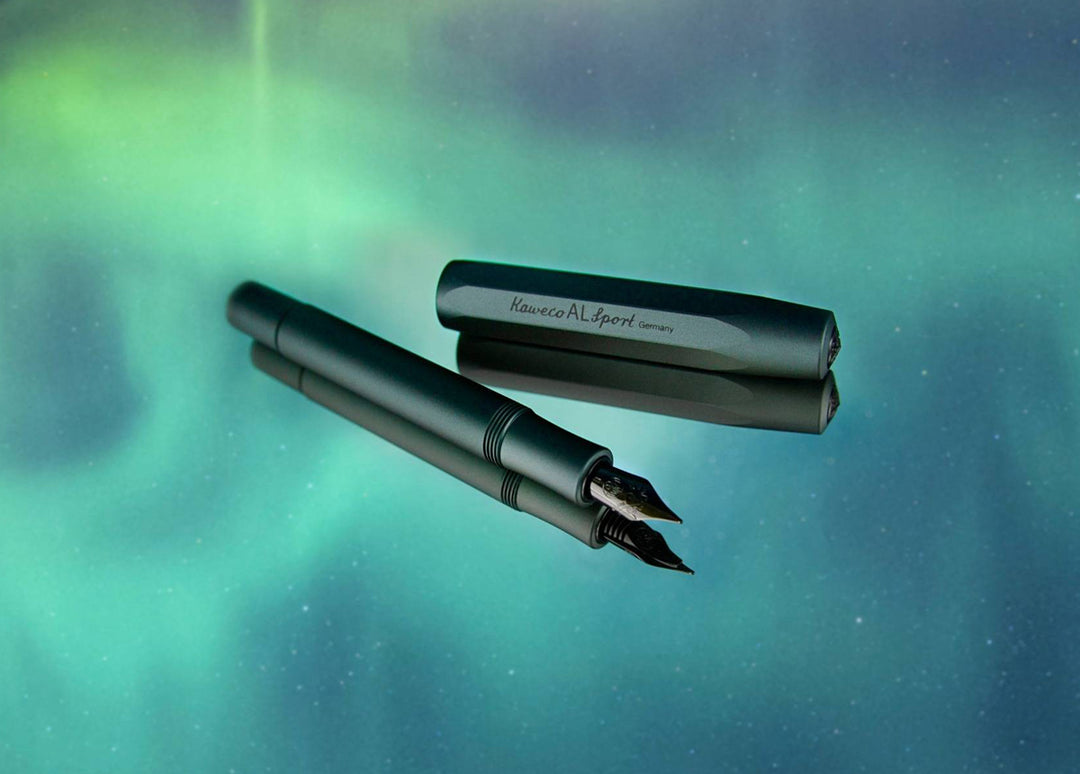 KAWECO AL SPORT FOUNTAIN PEN AURORA LIMITED EDITION
---
In stock, ready to ship

Inventory on the way
Limited Edition of 3000 pcs
The last special colour (except co-branding and collector edition)
The Kaweco Sport closely follows the original 1935 Kaweco octagonal design
Compact size feels just right in your hand, 4.1" long (105mm) closed, 5.1" long (130mm) open, and slightly over 1/2" in diameter (14mm)
Milled from solid aluminium blanks, laser engraved, and sandblasted to produce a unique matt surface finish
The logo "Kaweco AL Sport" is branded on by way of a highly delicate process of double anodisation, resulting the logo in black colour on the cap, giving a different mystique to the regular AL Sport
The pen features a screw-on cap for extra security, a PVD black-plated DLC (Diamond like coating) steel nib, and a black metal Kaweco logo on the cap tip
It comes with a Kaweco Nostalgic Black pen clip, a black ink cartridge to get you started writing right away and presents in Kaweco black metal tin box with a specially designed sleeve
Made in Germany
When the Kaweco Midnight Green Limited Edition Fountain Pen project ("Kaweco Midnight Green") was conceived, it was decided that it had to be significant and of impact, given that it was going to be the last regional special colour collaborative effort sanctioned by Kaweco officially. Significance and impact, not so much the quantity but the colour, material, production and technology.  Two batches were made, each with discreet differences, while maintaining the same colour tone and effect.
The first batch produced utilised, among other things, deep laser engraving followed by anodisation to produce what is called the shadow engraving effect of the Kaweco Logo.  The second batch produced adopted a different and highly delicate process of double anodisation, resulting in a laser engraving like effect of the Kaweco logo in black colour on the cap of the fountain pen, giving a different mystique to the midnight green colour.
Due to popular demand, the first batch is almost sold out and we are delighted to release the second batch to meet ongoing demand and interest.  Contrary to common belief, the Kaweco Midnight Green was not prompted by a new colour of a popular smart phone, it was in fact inspired by the natural wonder of aurora lights – midnight green – projected throughout the Arctic and Antarctic skies.  It is timely and just, therefore, to name the second batch of Kaweco Midnight Green the "Aurora Limited Edition".
The Aurora Limited Edition Fountain Pen, like its predecessor, is of matt finish and accentuated by an all-black trim: PVD plated black stainless steel nib and black Kaweco logo coin on the top of the pen cap.  The PVD plated black nib, available in sizes of EF, F, M, B and BB, is of diamond like robustness, assuring long lasting writing. The logo "Kaweco AL Sport" is subtly branded using double anodisation, resulting in a black colour laser engraving like effect on the cap.  Finally, the anodized pen components underwent a sandblast process to produce a unique matt surface finish.
The Aurora Limited Edition Fountain Pen, presented in an iconic Kaweco black tin box, comes with a Kaweco Nostalgic Black pen clip and a black ink cartridge to get you started writing right away. The tin box is wrapped with a sleeve specially designed for this highly collectible Kaweco Limited Edition Pen.
We offer two types of shipping: Standard and Expedited.

Standard Shipping: We use SF Express, Hong Kong Post, or Taiwan Post by Air Registered Mail for a flat rate of USD6.99 or equivalent. However, orders totalling USD99 or equivalent and above will qualify for FREE standard shipping.

Expedited Shipping: This option is available worldwide and costs a flat rate of USD25 or equivalent. We use couriers such as FedEx, DHL, UPS, and others for expedited shipping.
For more information about our shipping policy, please click here.